Plastic Metal
2-component epoxy resin systems
What does Plastic Metal actually mean?
Epoxy resin adhesives belong to the group of reactive adhesives. The two-component systems consist of a resin and a hardener and are referred to as WEICON Plastic Metal. The term Plastic Metal makes it evident that the cured adhesive is as hard as metal and can be machined. It can be drilled, milled, ground or filed.

Depending on the type, the epoxy resin system contains a different resin component, such as steel or aluminium powder or mineral fillers. This improves the technical properties of the adhesive. Depending on the filler material, for example, an especially high abrasion resistance, impact resistance, compressive strength as well as temperature resistance can be achieved.
epoxy resin systems exist?
WEICON epoxy resin systems can essentially be differentiated into two viscosities. There are both liquid and pasty epoxy systems that can be used for different applications.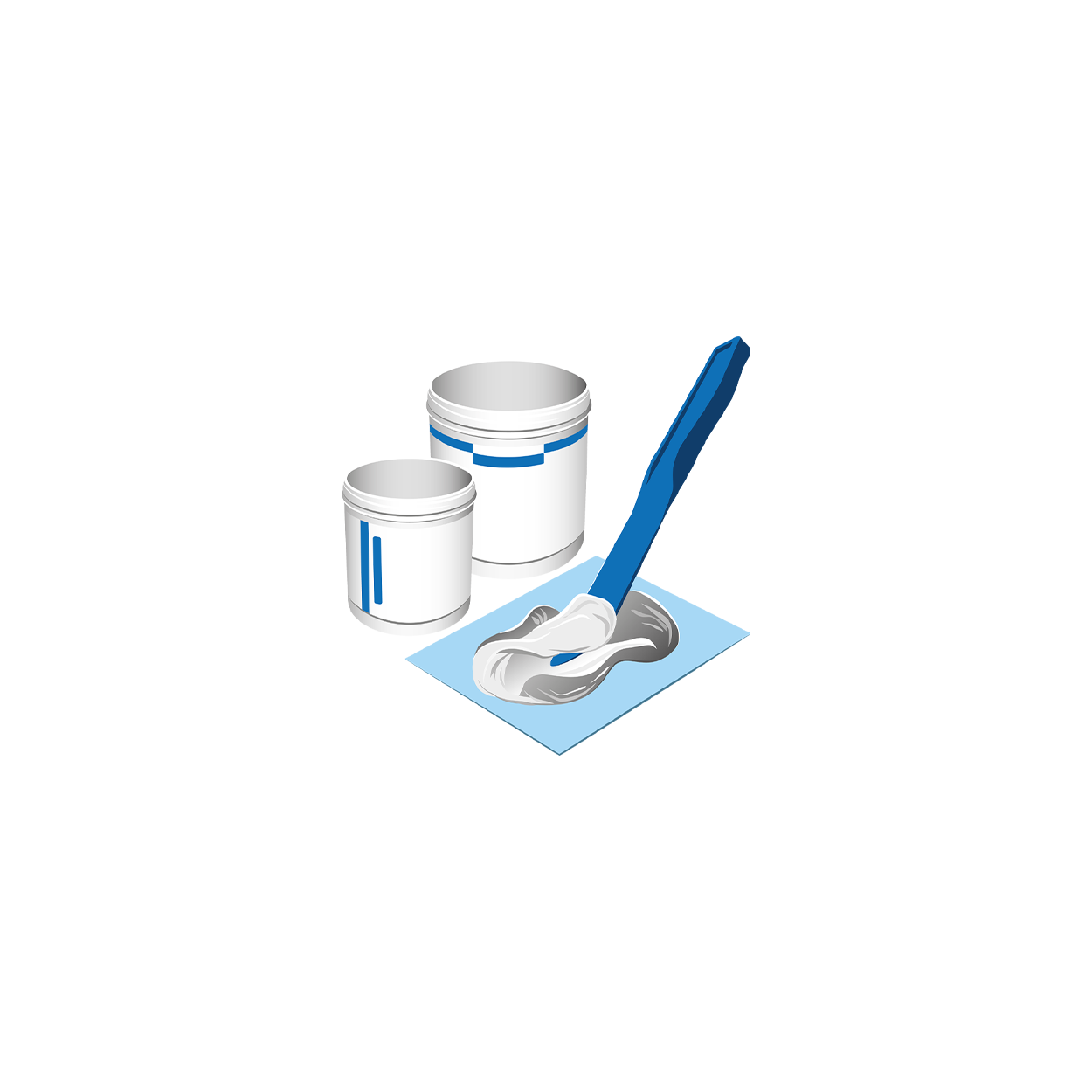 Pasty
Adhesive
Wear and corrosion protection
Repair, shaping and rebuilding of metal
Liquid
Potting, relining and gap compensation
Wear and corrosion protection
Epoxy compounds can be used in all areas of sophisticated industry. Nowadays, it is impossible to imagine the marine industry, the construction industry, mechanical engineering, mills and pumps or the chemical industry without them.
They are used, for example, to restore broken metal threads, broken housings and leaks or damaged plastic components. Epoxy resin systems withstand extreme loads. Salt water, marine animals, aggressive media or suspended particles do not affect the 2-component systems. It therefore comes as no surprise that they are increasingly gaining in importance when dealing with corrosion, pitting and abrasion.
Due to damages, it is necessary to repair or even replace components at regular intervals. The acquisition of new components usually involves high costs. Repairs with epoxy resin systems or preventive coatings are considerably cheaper than a new acquisition and huge costs can be saved. An initial coating of the components with WEICON epoxy resin systems can also lead to a significant increase in service life.
Owing to its fairly easy application, plastic metal is a real alternative to build-up welding, as no heat distortion occurs during the processing of the epoxy resin.
For further product information or training, please contact our technical team at any time.

Repair, shaping and rebuilding of metal


The repair, shaping and rebuilding of metal are among the most frequent areas of application for WEICON Plastic Metal. Typical areas of application are the automotive industry, agricultural technology, mechanical engineering, food technology or tool and mould making.

The repair compounds are used for repairing cavitation and corrosion damage, for repairing moulds, press moulds and holding devices as well as for pipe repair. They are also ideal for filling cavities and reconstructing components. The epoxy resin systems are used on containers, tanks, pipes, pumps, valves, shafts, etc. The epoxy resins differ in their filler material, their viscosities and curing times and their temperature resistances.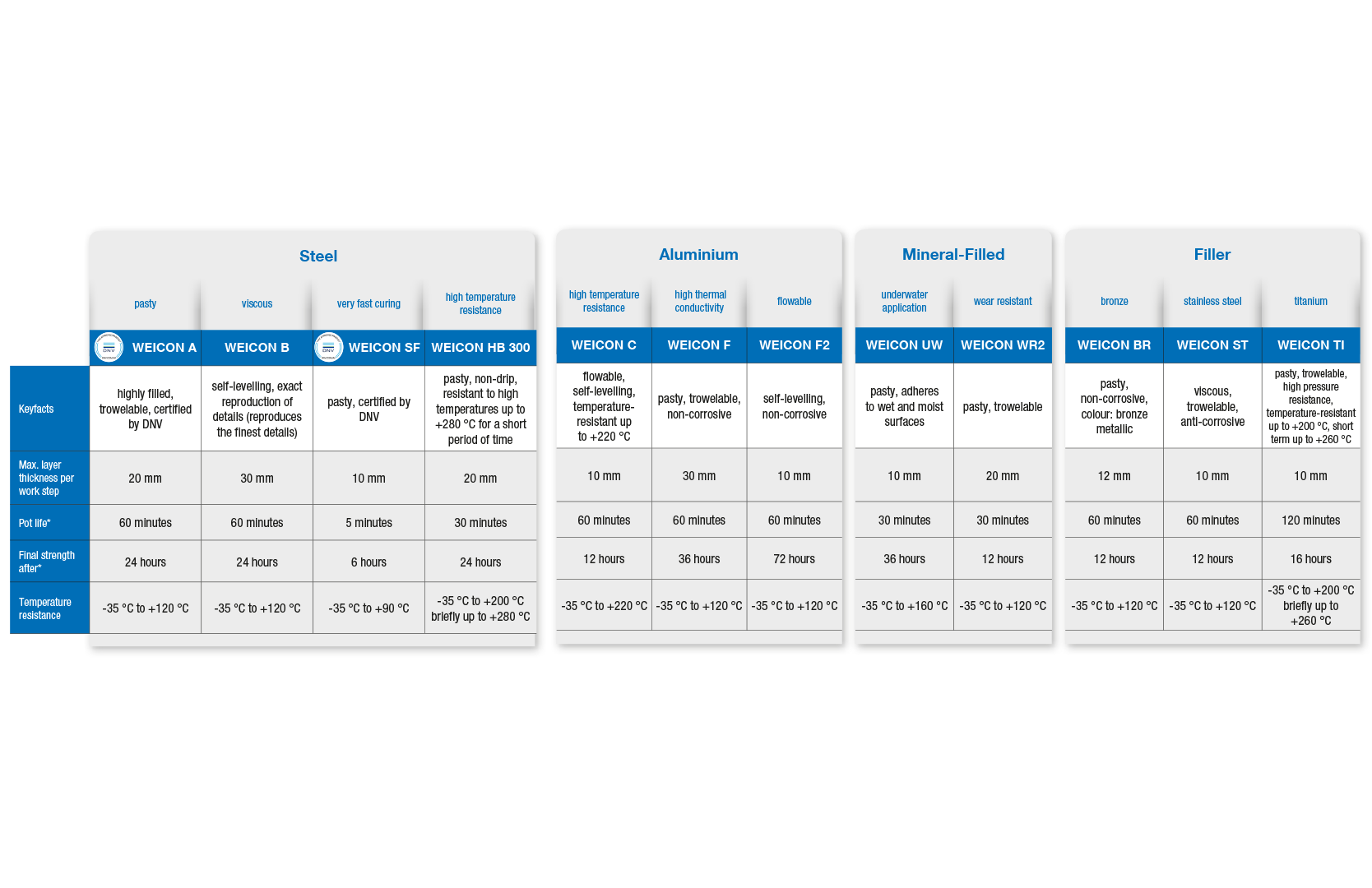 Some of the epoxy resin systems can be used excellently as adhesives. They are used in mechanical engineering, prototyping or building technology. This makes the adhesives ideal for large-area applications and for bonding heavily stressed metal parts and machines. Thanks to the different temperature ranges, strengths and initial adhesion, they can be used in a wide variety of applications, e.g. on tanks, containers, hoppers or flanges.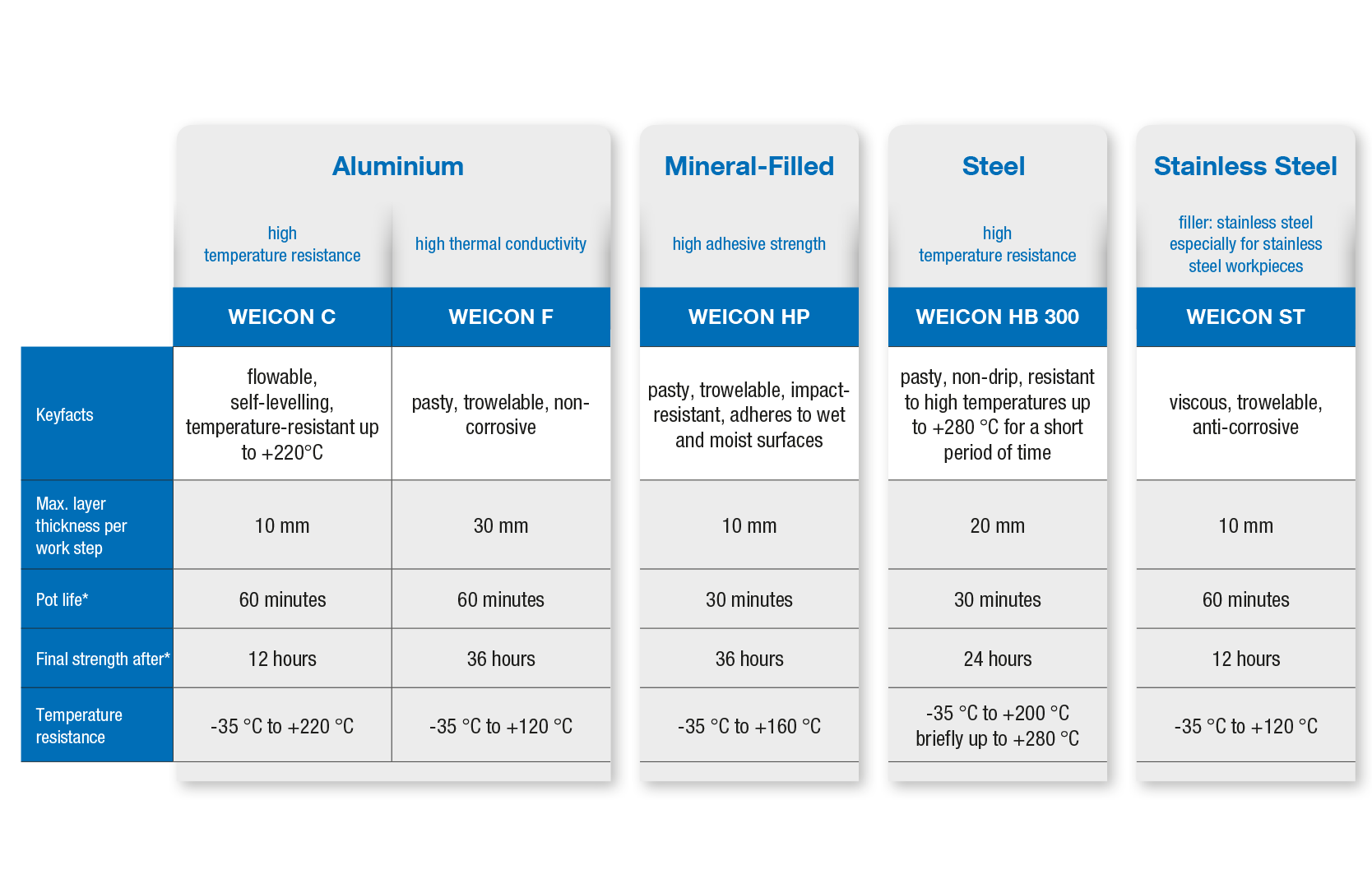 Wear and corrosion protection


Due to their technical properties, wear, erosion and corrosion protection products are frequently used in the fields of mining, materials handling, the construction and marine industry. They provide protection against cavitation and corrosion there. At the same time, they protect components from slipping and hitting movements. Especially pump housings that are subjected to heavy stress can be lined with the 2-component systems and thus protected against wear. In addition, castings, valves and fan blades, for example, can be repaired quickly and easily with the products specially developed for the industrial sector. Control layers can be included and eroded metal surfaces can be newly formed.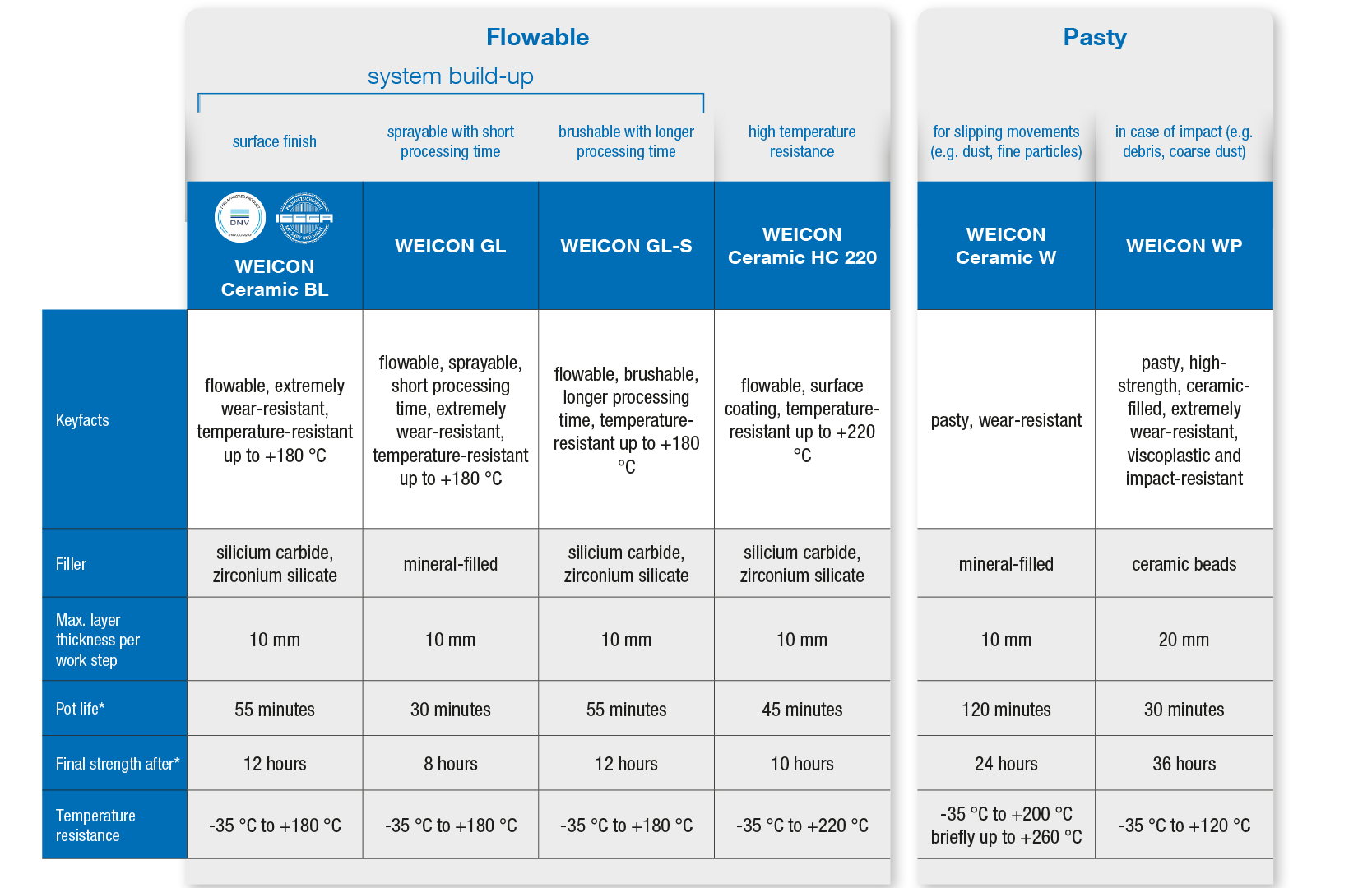 Potting, relining and gap compensation


WEICON offers a whole range of products that can be used as potting compound, for backlining and relining, and for gap compensation. They are also used in the production of prototypes or holding devices. The special products can also be used to repair conveyor systems, slideways or guide rails. The epoxy resins provide support in steel construction, track construction, on crane systems and in bridge repair. The advantages of these repair systems are high flowability, high adhesion and very good pressure resistance. In addition, they provide long-lasting corrosion protection.